Life is GOOD.... Salsa Life is GREAT!
Dance Trips: Salsa, Bachata and more..
Aventura Dance Cruise, Payment Plans Available!!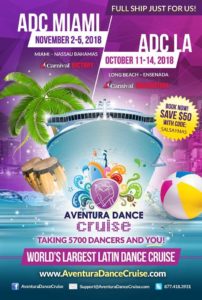 Aventura Dance Cruise Call 1 877-418-3931 and give the "Salsa Y Mas" Discount Code
Dance Fun Dance Cruise Call 1 866 326 2338 and give the "Salsa Y Mas" Discount Code
Bachata Paradise, Las Terrenas Dominican Republic May 17th - 27th. See Details Below
La Clave in Studio City Every Thursday!!
La Clave Salsa dancing and classes in Studio City Every Thursday!
8pm Basic Salsa Lesson / 8:50 INT Bachata or Chachacha
Classes $15 / $8 cover for social dancing DJ Nights only, $13 when a live band is scheduled
9:30pm DJ MIC / DJ Pachanga
10pm 1st set for Salsa Orchestra when scheduled
11pm Any special event occurrences such as Birthdays, Performances, Free Raffles, and/ or more!
When is your Birthday? Come Celebrate with us Salsa Style!! Ask us about our Birthday table reservations!
*** New Location 11502 Ventura Blvd. Studio City, Dancing till 1:40am***
Special Events, Contact Us for Tickets!
Bachata Paradise May, 2018
Bachata Paradise is a Holiday/Festival, that takes place in a Town called Las Terrenas on the Samana Peninsula in The Dominican Republic on a yearly basis in the month of May. The aim of Bachata Paradise is to promote authentic Bachata, music and culture in an authentic environment. Participants from all over the World enjoy this idyllic Beach town in all its glory. From daily workshops with local and international instructors, to beach parties, excursions, live concerts, local clubs. Your options of 4 Days - 7 Days - 10 Days. Check it out!!!
Discount Codes:
4 days, salsaymas4 $25 off - 7 days, salsaymas7 $50 Off - 10 days, salsaymas10 $75 off
Payment Plans Available!
Click on the Image below to book!!!