GG's in Burbank Saturdays for FREE B4 10:30pm, $5 after!
 DJ Mike, DJ Alfredo and guest DJ's every week!!!
*No dance Classes, See Olivia's for Lessons*
Upscale and nice location, Late night Happy hour, Free parking, Full bar includes drink specials...
- Rum Island Ice Bacardi Tea $5, - Guinness $4, - Jack Rose $7
Come check it out!
Saturday Bottle special:
$85 Buchanan bottle, $85 Chivas Reagal Bottle,  $95 Johnny Walker Black Label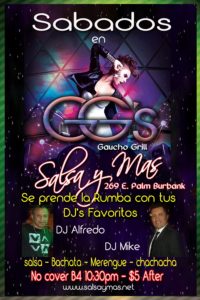 New Dates at OCH coming soon!!
OCH in Studio City!!
Classes start at 8pm, huge wood dance floor great people and music
11502 Ventura Blvd. Studio City Los Angeles
Get Ready for Another GREAT SALSA DANCING year at Olivia's, OCH and more!!!